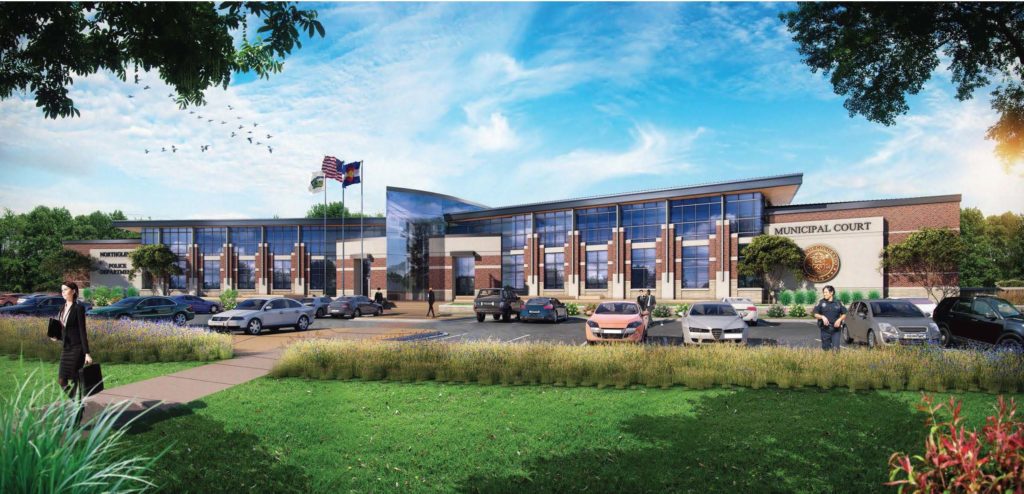 Northglenn, Colorado
A new state-of-the-art landmark Police Department (PD) and Municipal Courts Justice Center.  This 2-story facility includes 120 secure parking spaces, 80 public spaces, site improvements, security provisions, administrative functions, crime analysis, police investigations, a victim services unit, property and evidence storage, patrol/operations bureau, a police training unit, records, a community resource unit, police holding/booking, municipal courts, court clerk's office and a common shared public lobby.
Check out the live construction feed on this project, by selecting the link and the menu option in the upper left hand corner of the site, you can watch the entire facility come to life: http://senserasystems.com/public/embed/M68777854659
The Northglenn Justice Center will be celebrating with a ribbon cutting ceremony on September 11th, 2018.
Project Stats:
Size:  47,600 SF
Collaboration Partner: Hoefer Wysocki Architecture
Highlighted in Colorado Construction and Design, Summer 2017
"D2C was willing to work with us and assisted with cost control in such a bomming market.  We appreciated their local knowledge of markets, available skillsets and willingness to make themselves availabel to address our needs and concernts.  They were very diligent with respect to permitting and were able to begin the project ahead of schedule.  Based upon their expertise and professionalism, I would highly recommend D2C Archtitects to assist with organizational architectural needs. "
– James S. May, Jr., Chief of Police, City of Northglenn
"The team at D2C Archtiects has never failed to get involved from the very beginning.  Their commitment to the project was obvious, their level of expertise, knowledge and professionalism is above reproach and since groundbreaking they have been intimately involved with OAC's and the on time completion of the required ASI's and other documentation.  I have thoroughly enjoyed mytime working with D2C Architects, adn have come to know Eric, Brian and Bob as truly vaulable assets to this project.  They have been honest dependable, and are incredibly hard-working. "
– John T. Rosecrans, Support Commander, City of Northglenn